VENDOSYS Product Data Management System (VPDM)
The innovative solution for the mass processing of product data
The quality of processes and data has been highly challenged by changing trade structures and digital transformation. The VENDOSYS Product Data Management System enables an efficient mass processing of article information, thus ensuring a high-quality data base.
Using our product data management solution, product specifications, price data and classification information from different suppliers can be imported and qualified. During the import, article images and PDFs are compiled from external sources in the background and stored in a central location.
High-quality and uniform data base – efficient mass processing is the key!
In order to avoid the struggle with different file formats, product groups from different suppliers can be mapped into a uniform, in-house standard. The following file formats can be accepted and generated:
XML
BMECat XML
MS Excel
CSV
TXT
Due to our flexible product data management system, any formats can be created and outputted. This enables the operation of the most different target systems such as the VENDOSYS B2B Framework, SAP Business One or marketplaces. Once configured, tasks can be quickly repeated by using import and export profiles.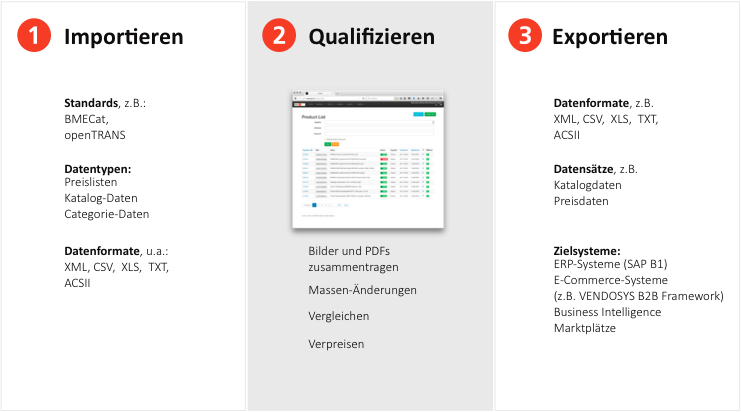 Trust in VENDOSYS when it comes to innovative concepts for mass processing and product data management. Please do not hesitate to contact us for individual advice and training!